ITF HQ Newsletter January 2021
1. From the Office of the President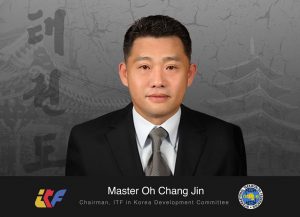 Dear Taekwon-Do Practitioners and Friends, It has been a year since the world has been hit by the COVID19 pandemic which has affected everybody and very part of life. It was no exception to our beloved martial art Taekwon-Do. Many instructors, students, and organizations have been facing all kinds of challenges. The lack of face-to-face classes and online classes have created a new test for all. Instructors had to learn how to adapt to the new conditions quickly in spite of the fact that not everybody has the appropriate infrastructure and is skilled to teach via digital media.
Therefore, I would like to complement our masters and instructors who in spite of these all challenges have been successful in maintaining and motivating Taekwon-Do practitioners around the world and keeping General Choi's Art alive.
Here in Korea, it is no different. Schools have been closed from the beginning of December 2020 and mass gatherings of over 4 persons are prohibited. The Korean government is doing everything to get the pandemic under control. So, the vaccination program will start from the beginning of February, with over 70 million vaccine doses exceeding by approximately 20 million the entire Korean population, will be inoculated for free. Therefore, there is a chance that this year things will ease in the homeland of Taekwon-Do.
We have been receiving many letters and messages regarding our Tul Tour programs. As of now, four teams would love to come to Korea in 2021 for the program. We hope that this will be possible as we would like to get back to the pre-pandemic way of training and enjoyment of Taekwon-Do.
I wish you all a lot of strength and indomitable spirit in these very challenging times. Do not lose your motivation, do not lose the love for the art many of you have been enjoying for a long time.
Stay safe and strong. Happy New Year 2021.
Oh Chang Jin – ITF HQ President
Read the full newsletter on the ITF HQ website : https://www.itfofficial.org/itf-news-letter-january-2021/