ITF HQ Newsletter April 2020
ITF HQ Newsletter April 2020
FROM THE OFFICE OF THE PRESIDENT – 65TH ANNIVERSARY OF TAEKWON-DO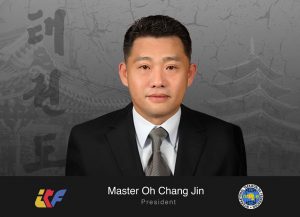 Dear Taekwon-Do Practitioners,
In celebration of the 65th anniversary of Taekwon-Do's birth, please accept my best wishes and congratulations from the Homeland of Taekwon-Do, Korea. Taekwon-Do was born in Korea in 1955, and over the past 65 years has spread like wild fire influencing millions of people around the globe.
I started Taekwondo in 1978 and since then I spent my entire life living and thinking about Taekwondo. I first met the Founder of Taekwon-Do, General Choi Hong Hi in the winter of 2001. He was a very wise man of small size but with a very sharp mind and courageous eyes. Because of his personality, charisma and the way he talked, I thought that Taekwon-Do was the best Martial Art on earth.
Having this opportunity, on this occasion I would like to express my gratitude to Taekwon-Do Pioneers, Grand Masters, Masters and all who have worked tirelessly to build and spread the art around the world. Taekwon-Do has achieved a very high status around the world and the efforts of all who made this a reality have not gone unnoticed.
In my opinion, the future development of Taekwon-Do requires unity and the ability to evolve to adjust and catch up with the fast developing and digitalized world.
Here in Korea, the birthplace of Taekwon-Do we have been working very hard to adapt to the changing world. This year we will introduce an online system to provide an easy, modern and comfortable platform for our members who will be able to enjoy our service which will be available with only a few clicks. We also have opened the homeland of TaekwonDo to all who wish to come here, work together and celebrate the art and founder in the place where it begun. TaekwonDo is an international art but it is always important to know and be associated with its roots.
Currently due to the Covid-19 pandemic, the world has become a very dangerous place. Therefore, we are really proud of all the Taekwon-Do advocates who volunteer and work hard assisting those in need in these difficult times. We are very proud of our members and looking to a bright future ahead.
Happy 65th Taekwon-Do Anniversary.
태권 Oh Chang Jin
ITF HQ President
Read the full Newsletter at  : https://itfofficial.org/newsletter-april-2020/